Our publishing business
GiG Media operates multiple content rich websites targeting the online casino segments and sports betting by publishing articles, reviews and more to connect users with the sites.
How does it work?
Traffic is generated when someone clicks on the links included on our websites, which will then take the potential player to the affiliated casino or sportsbook. When a player signs up and starts playing with one of our affiliated partners - be it a casino or a sportsbook - GiG Media earns a percentage share of the player's value over the span of the player's lifetime.
Words published monthly accross our portfolio of websites.
Our websites receive more than
500,000
users every month
World Sports Network (WSN) - WSN.com is GiG Media's US-facing portal, providing accurate and up-to-date information about sports betting in regulated and soon-to-be-regulated states. The site features odds, predictions and picks for all major US and international sporting events, as well as betting and legislation guides, industry updates and legal sportsbook reviews. We also publish a weekly podcast series which is available on the site, all major podcast services and on YouTube!
Casinotopsonline is our flagship casino site operating in every possible market, with dedicated languages in 10 separate markets: English, Swedish, Finnish, Brazilian-Portuguese, Spanish, Chinese, Japanese, Italian, German and Russian. Connecting millions of visitors every year with over 400 casinos, Casinotopsonline.com is one of the leading affiliate sites in the market. We cover everything from casino reviews to game reviews, strategy pages, industry news and the latest promotions and bonuses.
Our paid media business
Our paid media business uses a variety of marketing channels operating as a multi-channel media house. Traffic is generated by placing ads within different marketing channels, with users from each channel being directed to an affiliate site of ours or directly to a partners site.
Search engine marketing (SEM)
Ads on search engines
such as Google and Bing
Social media
Facebook, Instagram and
Twitter + chatbot on Messenger
Permission marketing (PM)
Email and SMS controlled by a
series of technology filters
Display
Banner, push notifications,
interstitial, popunder and native ads
Impressions generated globally through our display channels
Campaigns published weekly (on average) reaching users around the world on google ads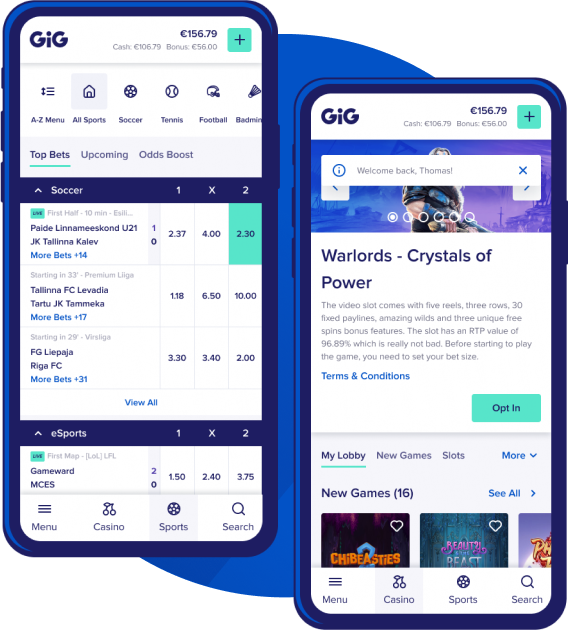 Markets and verticals
GiG Media operates within the world of casino and sport. Our presence in both verticals ensures a steady cash-flow throughout the year given the different seasonalities of casino and sport. We operate in established markets earning our bread and butter as well as in emergent markets that will supply tomorrow's revenue.
Active in more than
14 languages, GiG's publishing solution has global reach across the world's biggest igaming markets
How we maintain our edge in a competitive market
Search engine optimisation is an integral part of our success in our publishing business. Our experienced team of search engine optimisation experts are dedicated to ensuring our websites have a high organic ranking in premium search engines. We provide engaging content that empowers potential players and connects them with online casinos or sports betting sites.
Dedication to details combined with an activity based costing mindset is a prerequisite for succeeding in the paid marketplace. In GiG Media we operate with a strict return-on-advertising-spend focus (ROAS) ensuring that both we and our partners profit from the players that we generate. GiG Media has developed several proprietary technology solutions to support our paid marketing activities – to name a few examples:
• Our technology allows us to understand and track our activities on a granular level
• Significantly reduces manual work hours, empowering our employees to focus on continuous optimisation
• Allows us to safeguard all of our marketing activities ensuring they are compliant and follow regulation.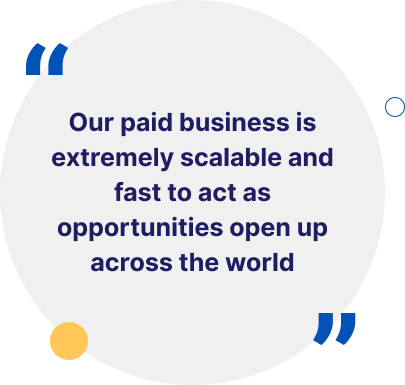 Our business model
GiG Media generates revenue by providing high quality leads to operators in the iGaming industry. We operate in both mature and emergent markets using different traffic generating channels working with many different partners – all to diversify our risk in the marketplace. We have several levers we can use to control our revenue and cost with the aim of securing a steady cash-flow and a prosperous EBITDA-margin.
Start receiving high quality leads
We can drive players and net gaming revenue in numbers. Our portfolio has over 500,000 users monthly ensuring both acquisition and retention for our partners. Operating many content-rich and high quality websites we give our partners strong momentum to reach their target audience. We can work on a performance basis, operating as an affiliate, or we can work on a more agency based approach via our managed services.
Performance / Affiliate partnership
As an affiliate we work independently in collaboration with you as an operator. We offer a range of different packages including: revenue share where we receive a percentage of the end-users value, CPA model where we are paid an upfront amount for the customer that we generate, a mix of revenue share and CPA (hybrid deal) or with fixed fees. We understand that every operator has different needs and preferences.