<< All Companies
About RAS Title, LLC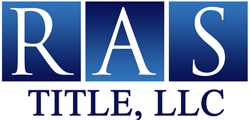 ALTA Best Practices' certified RAS Title is owned and operated by a Licensed Florida Attorney with over 20 years' experience in the title industry and is managed by our Title Attorney, Title Manager, and Florida Licensed Title Agent with over 75 years combined experience involving Residential and Commercial real estate property transactions, with a specialization in REO (real estate owned), purchase/sale, refinance, short sale, and loan modification. RAS Title is an affiliate of Robertson, Anschutz & Schneid, PL, a Florida foreclosure law firm (RAS).
Area of practice
RAS Title, LLC practices law in the following areas and works with its clients to provide the best possible legal solutions.
Settlement and Closing services.
Recommend to a friend
0% of 0
REVIEWS
Approve of management
0% of 0
REVIEWS
RAS Title, LLC LOCATIONS
RAS Title, LLC Headquarters
6409 Congress Avenue ,
Suite 100
Boca Raton, Florida
33487
Your RAS Title, LLC Experience
RAS Title, LLC
ADD REVIEW
Do you currently work at RAS Title, LLC? Have you worked there in the past? Please rate your expierence and share your thoughts!

More Jobs at RAS Title, LLC